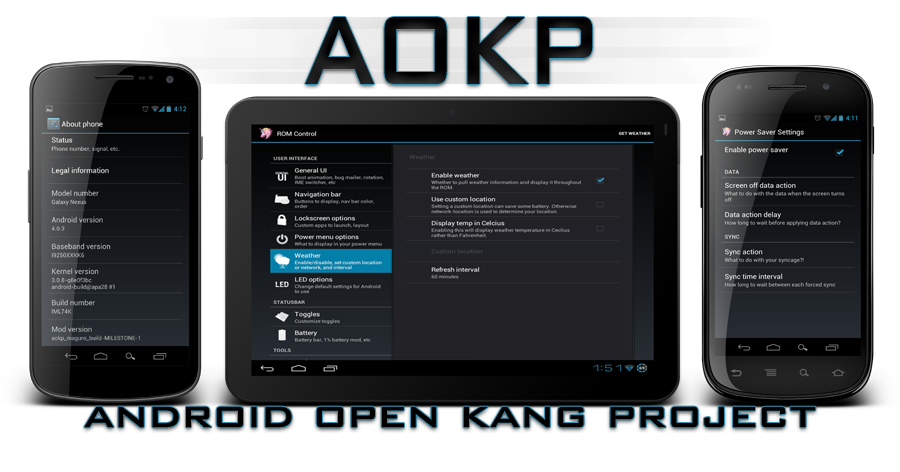 This is theWidely Popular AOKP Rom been built by Roman and TeamKang who are Recognized Developers here on XDA and RootzWiki, the Original Thread is Here Without Their Hard work Developing this Rom we would not have it to port for your enjoyment many thanks to TeamKang.
CHANGELOG
AOKP Build 28:
Added lockscreen color changer
Added 'traditional' toggle layout [where the toggles are on the very top] (Stevepear426) -- find in RC > Statusbar General > Layout
Added AOSP lockscreen style (Whitehawkx)
Added extra volume slider options (Stevepear426, tmoskowite on gummy)
Added lockscreen calendar options (!!!) (sethyx)
Removed any trackball support the ROM had, was only throwing errors, not properly implemented
Improved brightness slider under toggles, doesn't jump anymore
Improved brightness slider (when sliding your finger across the statusbar if enabled). MUCH more responsive now
Added ability to set custom lockscreen image for targets. Click picture in RC to set.
Also increased size of custom lockscreen images to more match the normal icons
Improved
battery bar should no longer disappear when in the navigation bar
**Beyond build 28 changelog**:
-Based on AOSP V06 + AOKP Build 28
-Photoshop capable now!
-USB Mass Storage works*use USB Mass Storage app from the app drawer, or play is on desktop/folder for quicker use* *DO NOT USE STANDARD ANDROID MOUNT!* *view HERE for bugs related to this app and to thank Neobuddy89
-replaced phasebeam lwp with rootbeam lwp
-added AppWidgetPicker2*helps organize widget menu*
-160dpi calling working.
-external sd is mounted where aosp has it /mnt/external_sd
-no launcher fc
BUGS
Anything from AOSP
call answering slide may get cut off
SCREENSHOTS
For downloads, visit the XDA Thread here.
Do thank the dev for his awesome work!