The launch of the Samsung Galaxy Tab 2′s has been delayed, reportedly to do a little extra work on the software. But a new rumor has cropped up saying that the real reason is a hardware one – namely Samsung wants to put a quad-core processor inside the Galaxy Tab 2 10.1 and the Galaxy Note 10.1 (no info about on the Tab 2 7.0).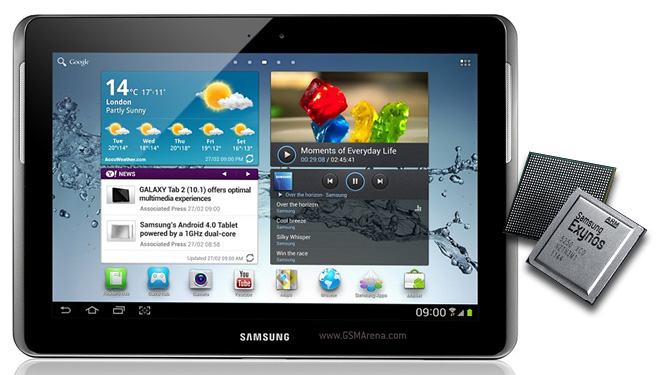 It won't be the first time Samsung has reworked a tablet just before its launch – it happened to the original Tab 10.1. The already manufactured Tab 10.1 models were sold as "10.1v", so maybe we'll see something similar with the Tab 2 10.1 and the Note 10.1, depending on how many of those are already made.
It's not clear what kind of quad-core processor we're talking about – the current version of the Tab 2 10.1 uses a TI OMAP chip, while the Note 10.1 uses an Exynos chipset. Samsung do have a ready quad-core Exynos – the one that will be in the newly announced Meizu MX quad-core. That uses four Cortex-A9 cores built on a 32nm process.
We also know that the Exynos 5250 has been in mass production for a while now – it uses two Cortex-A15 cores clocked at 2GHz, which should beat a quad Cortex-A9 chip. So, it's possible that "quad-core" was in terms of performance compared to current tablets, not the actual core count.
Either way, if the rumor pans out, the updated Samsung Galaxy Tab 2 10.1s and Galaxy Note 10.1s will have a lot more processing power than the versions we previewed. Note the "if" – this is just an unconfirmed rumor for now.